ADD LOGO
Need Embroidery or Printing?
Types of decoration available:


Embroidery
Our in-house embroidery service is ideal for most decoration types. Embroidery lasts indefinitely & provides a nice premium quality finish.
While not always ideal for larger back logo's, embroidery is the most economical choice for small and individual runs.

*Example of Embroidery


Pros/Cons of Embroidery
+ Ideal for individual names
+ Lasts indefinately
+ No repeat setup charges
+ Multiple colours per logo
+ Premium finish
+ Works on most fabric types
- Not suitable for extra large logos (back)
- Unable to recreate photographic images





Screen-Printing
Screen printing is the most common method of textile printing. A tried & tested process that gives accurate, consistent and long lasting prints.
Screen printing is not ideal for small quantities and print cost gets significantly cheaper as quantity goes up.
Requires a physical screen set up per colour for printing.

*Example of Screen-Print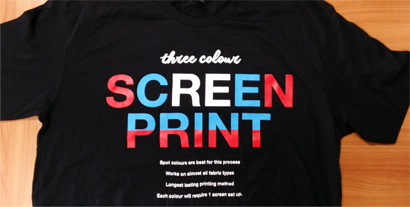 Pros/Cons of Screen-Printing
+ Best colour reproduction
+ Longest lasting print
+ Cheapest method for quantity
+ Variety of effects & ink options
+ Can be printed on almost all fabric types
- Not suitable for short runs




Textile Vinyl Transfer

Textile vinyl is a heat transferred, computer cut vinyl that can also be printed digitally.
Textile vinyl is an excellent method of creating personalised garments quickly, easily & cost effectively with no set up costs.
Textile vinyl is the method used for all Year 12 personalised jerseys. This method can do individual names & numbers very cost effectively.
Not as long lasting as screen printing as it is an indirect (transfer) process. Not prone to fading but after a long period of use the transfers can crack or peel.
This is a professional process, not an 'iron on' transfer as can be achieved at home.
*Examples of Vinyl Transfer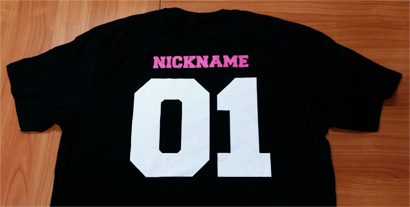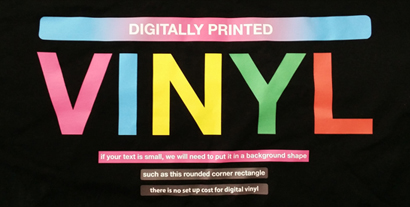 Pros/Cons of Vinyl Transfer
+ Either digitally printed vinyl or cut & press vinyl
+ Excellent colour reproduction
+ Can be applied to most fabric types (Polyester, cotton, viscose, modal etc.)
+ Inexpensive method for small to medium runs
+ Great for numbers & individual names
+ Digital process, full colour same pricing as single colour
+ Excellent for corporate clients
+Cut & press vinyl has a wide range of stock colours, finishes etc.
Including flock, perforated, metallic and many more
- Small details will need to be put onto a background, not weeded. (See sample)
- Vinyl print, not ideal for areas of large fill as print does not breathe
- High sheen, almost glossy decoration method




Direct to Garment (DTG) Digital
Direct to Garment digital printing uses a large format inkjet printer specifically designed for the textile industry. Water base dink is printed digitally directly onto textiles.
DTG is an excellent process where customers have small runs or individualised t-shirts & want a photographic image with a really soft feel.
Printing onto black requires white under-base and is therefore more expensive. Not as hard wearing as screen printing and is not usually recommended for workwear.
*Example of Direct to Garment Print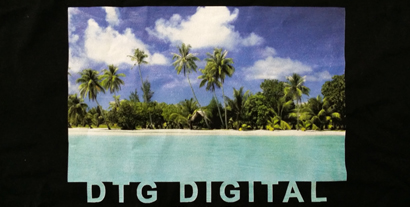 Pros/Cons of DTG Digital.
+ Newest garment printing technology
+ Most environmentally friendly method of printing
+ Soft feel printing
+ Colourfast
+ Perfect for runs between 1 - 50
+ 300 - 1440 dpi print quality
- Dark garments require pre treat and white underbase and are more expensive
- Physically slow printing, for large runs allow time for delivery
- Not ideal if very accurate PMS colours are required
- 100% COTTON ONLY